Month of the Francophonie in China
The 27th Francophonie month took place throughout China this March 2023. Events took place all over China around literature, poetry, sports and gastronomy.
This multidisciplinary festival was an opportunity to honour the French language and the diversity of French-speaking cultures, but also the common values it conveys and the bonds of friendship it creates between peoples.
Of course, Tintin was present with a series of lectures!
Conference "The Blue Lotus: Tintin, Chang and Hergé
On 22 March, the conference took place at Jiao Tong University in Shanghai, where students from the SJTU-Paris School of Engineering were immersed in the premise of the album The Blue Lotus. They were impressed to discover the collaboration between Hergé and Chang for its creation and by the friendship that it generated between the two artists for half a century.
© Hergé / Tintinimaginatio - 2023
Conference "The Blue Lotus: the friendship between a Belgian and a Chinese artist
The Consulate General of Belgium in Shanghai invited 50 guests to attend a conference exploring the friendship between the famous Belgian artist Hergé and the Chinese artist and sculptor Chang.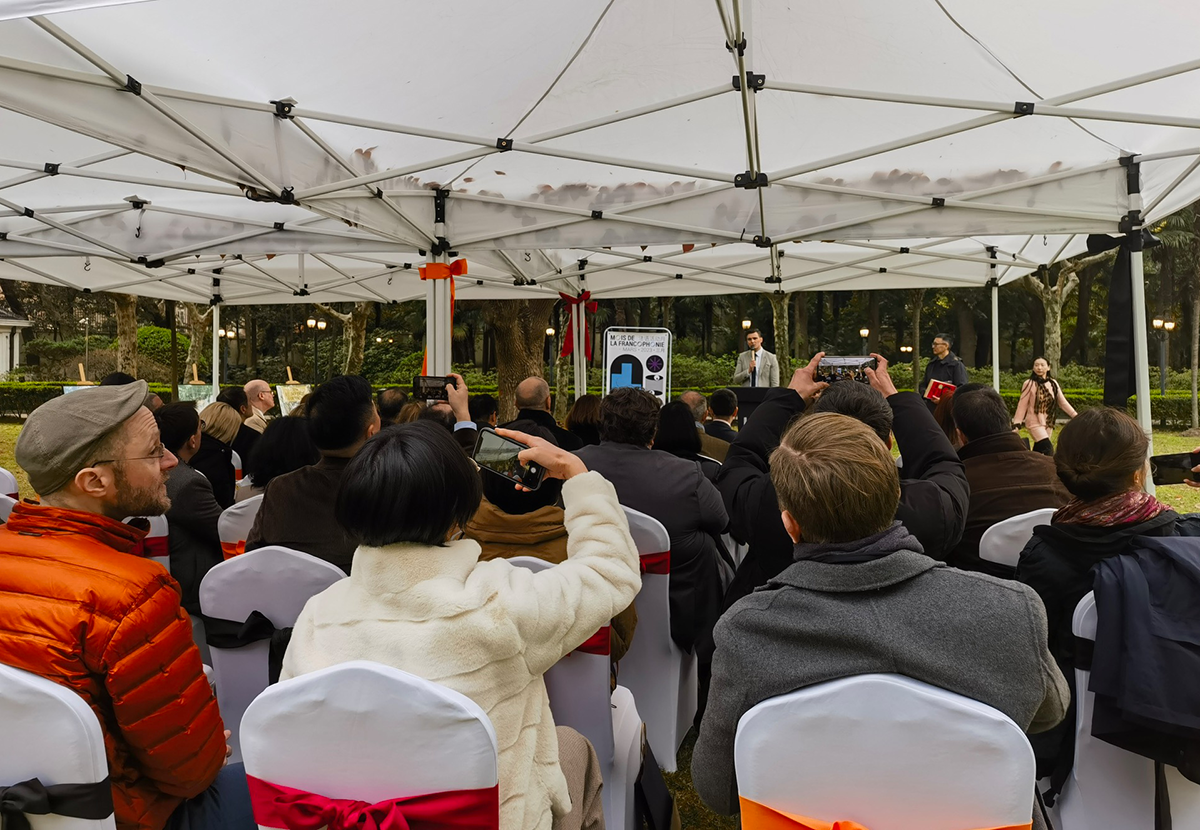 © Hergé / Tintinimaginatio - 2023
Conference "Tintin and the trains"
Although Hergé provided Tintin with all sorts of transport, it is often on the railway station platform that his journeys begin. This was the theme of the conference held on 25 March. Trains abound in Hergé's universe, and his work offers a choice place to analyse the development of the railway world.
© Hergé / Tintinimaginatio - 2023
Conference "The Blue Lotus"
Unsurprisingly, it is the album The Blue Lotus that fascinates the Chinese the most. The conference went back over the making of this fifth opus by listing the numerous exchanges between Hergé and Tchang. Thanks to them, Hergé has taken care of the authenticity of his story.
© Hergé / Tintinimaginatio - 2023
Conference "Tintin and the Cars"
The "Tintin and Cars" conference was held on 8 April in Shanghai on the occasion of the publication in Chinese of the book "
Tintin, Hergé et les autos (Tintin, Hergé and Cars)
". During the event, lecturers compared the car models created by Hergé in "The Adventures of Tintin" with real cars, revealing the secrets of the Belgian author's artistic work.
Each of Hergé's car drawings is a true testimony to the history of the automobile, giving us a unique insight into its evolution and cultural impact.
© Hergé / Tintinimaginatio - 2023