La Vie de CHÂTEAU / The CHÂTEAU Life
A Unique Castle and the Tintin Comics Cohabit in France's Loire Valley
By Jennifer Arin
To visit the château de Cheverny – a castle in France's Loire Valley which has a permanent Tintin exhibit – was irresistible. Granted, I am not normally a "château" fan: Oh, look, I find myself thinking during occasional visits foisted upon me by French friends, rooms filled with expensive stodgy furniture, stodgy objets d'art, and even stodgy wallpaper. But this exceptional coupling of castle and exhibit drew me in. Good-bye, stuffy châteaux: hello, Cheverny!
Copyright © Hergé / Moulinsart 2016
Copyright © Photo by Jennifer Arin 2016
Copyright © Photo by Jennifer Arin 2016
Copyright © Photo by Jennifer Arin 2016
The pairing of a Tintin exhibit and the château de Cheverny is, in fact, a natural one. The Belgian artist Hergé (né Georges Remi) created the Tintin comic-book series in 1929, and as that series developed over the years, Hergé had one of his characters inherit a castle called "Château de Moulinsart." The name was inspired by a similarly named Belgian village – and the fictional château was inspired by the real château of Cheverny.
Before traveling to Cheverny, I contacted Luis Castellano: the representative in France for the Belgian company also called Moulinsart, which promotes the work of Hergé. Among his other duties, Mr. Castellano helps oversee the many Tintin exhibits across his country's hexagonal geography. He kindly offered to speak to Marquis Charles-Antoine de Vibraye – the owner of the château of Cheverny – to see if the marquis would be willing to meet with me. Soon afterwards, he sent me the marquis's contact info. Wonderful! Not only would I visit this unique site, I might also meet a French noble.
But how to address an aristocrat? I queried a French colleague: Sophie Clavier, an associate dean at the university where I teach and advise students. She explained, "Dans la lettre tu commences en disant Monsieur." Begin with Monsieur? Not "To the Honorable and Esteemed...," or some other grand approach? This marquis's ancestors had served at the highest level in various French courts. Still, I took the "Monsieur" advice, and the marquis took no offense: we set a date for an interview.
A two-hour train ride from Paris to Blois-Chambord, then a local bus, brought me to the village of Cheverny. After checking into a hotel, I followed the village's main, two-lane road to the château. It stood at the end of a long walkway, surrounded by wide expanses of well-tended lawns and assorted pine, cedar, sequoia, lime, and orange trees. And there, in the center of it all, was the château which so clearly resembles the fictional one of the Tintin books. In his drawings, Hergé left off the castle's side wings, creating a more simple manor-like residence. Every other detail, though, is exact, from the real château's central tower and rows of high rectangular windows, to the design of its grounds. I was hardly the only one to make the connection; all around me, one excited visitor after another invoked the château's comic-book equivalent: "C'est Moulinsart!'"
Before the next day's interview, I would visit the château's interior and the unique features on the premises: eco-friendly electric-powered boats which cruise along a canal in a forest behind the château; hunting dogs – one hundred basset hounds with legs far longer than those of the more familiar, close-to-the-ground bassets; gardens where various flowers, rows of vegetables, and unusual plants like papyrus grow; and an offshoot of the canal which is home to assorted birds, including slender-bodied black swans from Australia. I wanted to see all of these – but first, I wanted to see the Tintin exhibit.
Tintin, that carrot-top comic-book reporter who trots around the globe rescuing the distressed and oppressed, remains highly popular today, with Hergé's Adventures of Tintin books read across the globe. During her own globe-trekking, my mother brought back, from Holland, dolls from that comic-book series. As a child, I played with a squeaky Tintin and his dog Snowy, the terrier who often rescues his owner; Thomson and Thompson, the comical detectives who tumble and stumble around, their bowler hats frequently jammed over their eyes as a result; Captain Haddock, the seafaring friend (and inheritor of the château de Moulinsart) with a good heart but quick fuse, who sputters out hilariously alliterative outbursts; and the brilliant, hard-of-hearing Professor Calculus, ingenious inventor and constant muddler of conversations. As an adult, I love the Tintin books for those intriguing characters, the clever puns and sound play which abound in both the original books and their translations, and the drawings themselves, which so astutely portray physical movement, it seems the figures actually travel through time and truly interact with one another.
Copyright © Hergé / Moulinsart 2016
Copyright © Hergé / Moulinsart 2016
Even before I entered the Tintin exhibit, titled "Les Secrets de Moulinsart" and housed in a building a short stroll from the château, it was clear the exhibit would be a winner. The ground-floor windows are filled with outward-facing images of Tintin and his entourage, giving visitors the impression of participating in the exhibit before even setting foot inside. When I entered, Brigitte Mustafov, the dark-haired ticket-checker, offered a greeting as upbeat as her bright pink dress.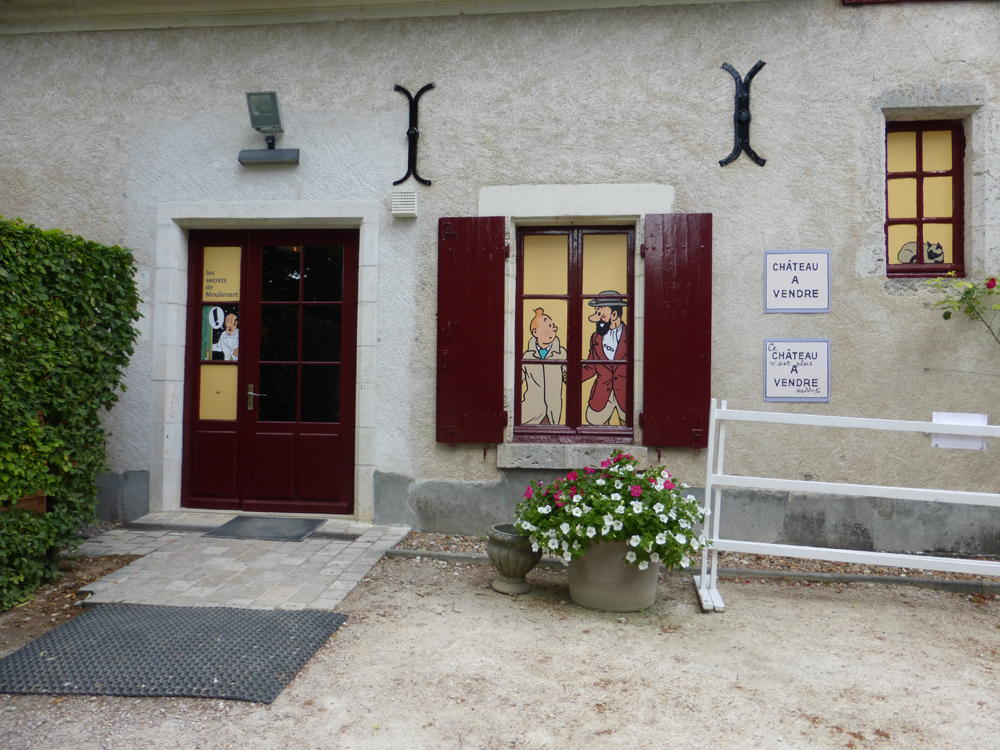 "You're going to love the exhibit!!" she exclaimed. She described its hands-on interactive nature, then said again, "You'll love it!" I worried that on the heels of such enthusiasm, the exhibit might seem anticlimactic. But it was impressive indeed, with numerous dimensions: film clips about Hergé; scenes set at the château, as Hergé had rendered it, and excerpted from the Adventures of Tintin television shows which the books had inspired; Snowy's painted paw prints traveling up stairs that lead visitors from room to room; and porthole-like windows that, when opened, reveal 3D reconstructions of frames from the storybooks.
Each aspect is engaging, and clearly planned with great care – but I was enthralled most of all with one room which (like many of the rooms) is based on scenes from a specific Tintin story: in this case, The Secret of the Unicorn. As a fierce thunderstorm rages outside, a crystal chandelier goes dark, leaving the room illuminated only by flashes of lightning. Amidst this chaos, the phone on a dresser covered in broken mirror shards rings loudly, demanding to be answered. I found myself alone in that spooky room, and picked up the receiver with a nervous "Alô?" A voice replied. It was a recording, and I didn't catch what it said over the storm's loud tumult, but its tone was strikingly ominous. All the sensory effects conspired so effectively to induce fear, that I was quite relieved when other visitors entered the room! There is much to be said for company.
I was glad for company the next day, too, when a French friend, Eric Tison, joined me to explore the château. We arrived just before it opened, and sitting on a low wall near the entrance, we watched a few employees arrive. The later they came, the faster they walked. Then a pair of large iron gates at the entrance opened toward the street... and out drove the marquis! I recognized him from online photos: the square-ish face, deep-set (blue) eyes, and salt-and-pepper hair. He sat behind the wheel of a Toyota Prius so covered in dirt, I half expected someone to have written on it the French version of "Wash Me." What kind of aristocrat was this, driving a dust-encrusted hybrid instead of a cherry sports car or a luxury-model Citroën? I would know at 4 p.m., our interview time.
Meanwhile, Eric and I explored the château's three grand but, to my relief, manageable floors; one side wing is closed to the public, as this is where the marquis, his wife Constance, and their two daughters and son live. The presence of children may help to explain the warm, even playful aspect of the château. A tapestry, for instance, traces the marquis's genealogy: long aristocratic titles, such as "Philippe Hurault, Count of Cheverny and Knight of the Order of Saint Esprit," led Eric to exclaim, "Ce sont des vrais!" (Real nobles!) Then, on a pedestal in front of that tapestry is a model of the castle... built of Legos! Also playful, in a more traditional sense, is the salon whose centerpiece is a gold harp with pastel-colored strings. That exquisite instrument, and the sea-blue hue of the surrounding walls, create such a soothing mood, I could barely pull myself away. When I did, I discovered a sunlit dressing room with Constance's wedding gown draped over a mannequin; a mantle decorated with two deep-green antique vases, a gilded clock, and photographs from the couple's wedding, in 1994; and, on the floor, a vase with fresh white flowers (hydrangeas) from one of the château's gardens. The few austere elements of the château, like the display of knights' armor worn by the marquis's ancestors, are time and again offset by these warmer touches.
I hoped that the marquis, too, would be a welcoming sort, rather than the starchy type one associates with the aristocracy – at least, if all those period movies and T.V. dramas are to be believed. At 3:50, I went to the ticket window near the entrance to the château, as the marquis had told me to ask for him there at 4 p.m. To my surprise, he was already at the billeterie, waiting for me. The marquis was nicely dressed, in a dark gray suit, white shirt, and purple-and-bronze patterned tie, none of which were dust-encrusted.
"Bonjour," I called to him.
"Ah, it's you!" he said, in somewhat stilted but enthusiastic English. We shook hands,then he asked, "Would you prefer to speak in the tea salon or the office?"
"Either is fine." Just before we entered his office, I noticed, on a hallway shelf, a Tintin figurine: the protagonist is tilted slightly backwards, his arms brimming with miniature replicas of the 23 books in the series. I enjoyed seeing Tintin there simply for the pleasure of the marquis. A true fan, I thought.
We entered a modest office with a desk covered in papers, a table with a desktop computer, and a salmon-colored sofa where I took a seat. The marquis sat in a chair across from me, on the other side of a low coffee table. I imagined he would be eager to zip quickly through our conversation – one more obligation to get over with, he would surely be thinking. But we spent nearly half an hour just chatting about his past visits to the U.S. We spoke mainly in English; he said he was eager to improve his. It seemed he sometimes converted French phrases into English ones, which lent his speech a formal quality.
"I love Los Angeles," he explained. "And San Francisco could be European; it's quite strange because it's a very refreshing atmosphere – you know, it's not hot, it could be cold, and we presume that it's not possible to swim in the water, it's too cold."
He had seen the film Escape from Alcatraz, and had wanted to take his family to visit that island and prison, but couldn't get tickets in time.
"When we stayed in San Francisco," he added, "it was only three days. We would like to stay a little bit more."
"And now you have a contact if you go to San Francisco," I offered, having told the marquis I live there.
"Yes," he laughed, "to visit Alcatraz!"
As we conversed, I told him that I'd written my interview questions in French: did he want me to ask them in English instead?
"No," he said, "just to be sure."
So in French I listed the many unique aspects of the château, which I'd visited just prior to our meeting: the eco-friendly boats (a heron alit nearby during the ride), those long-legged dogs, the diverse gardens, and, of course, the Tintin exhibit.
"Is there any one feature," I asked, "which you especially appreciate?"
"All of them. One could not exist without the other. The château is the core asset – the one most likely to be able to live alone." The marquis mentioned his fondness for the other features, too, including the Jardin des apprentis.
"Why is it called the Apprentices' Garden?"
"It was built by apprentices in 2006," he explained. "Paying tribute to the people who built it is important. I wasn't interested in calling it, for instance, the Imperial Garden. You have to thank the people."
As people go, the marquis was certainly an interesting one. I asked if he knew the English television series Downton Abbey. He did. I couldn't resist drawing a parallel:
"Your own story"– he'd been adopted by his great-uncle, to gain a title and inherit the château – "reminds me of the character Matthew Crawley. He had to be ennobled to become the future lord of Downton Abbey. It almost seems that your story inspired that plot." In fact, as far as I was concerned, the marquis's story had the show's plot beat.
"Yes," the marquis laughed. "It is, how you say, une histoire voisine."
"A close story."
"Yes!"
"Having grown up in a country that never had a monarchy," I said softly, unsure if this was a delicate point, "I wonder, is this kind of situation common in noble families?"
"Yes, it is!" The marquis laughed again. That warm laugh punctuated most of his answers, easily dispelling any concerns I'd had about a possibly uptight aristocrat. Maybe that relaxed nature explained the actual nature I'd seen on the premises, which was quite different from the classically French, highly pruned gardens of most châteaux, with their flat-topped trees and strictly geometric shrubs.
"You chose a more English style – more wild, more untamed. Why this English landscape for a castle that has been in the same French family for six centuries?"
"It's important," the marquis said, "because the visitor must feel a living and a warm presence."
I love that he viewed nature not as just alive, but warm. Was this warm-hearted tendency the impetus for the family pictures, too, found in several rooms?
"The difference between Chambord," the marquis began, referring to another château in the Loire Valley – then he hesitated, searching, I thought, for a way to comment delicately on a neighboring castle – "it's wonderful, but no one lives there. It's been turned into a museum."
His remark called to mind the many life-infused aspects, both flora and fauna, of his château. And then, there was the exhibit. I told the marquis I'd read that it was initiated by a local resident who'd amassed Tintin collectibles, and had contacted the company Moulinsart about a possible exposition. If, as I'd also read, setting up the exhibit had taken five years of discussion and ten of planning, obviously it hadn't been an easy process.
"Which aspects of the installation were the most difficult," I asked, "and which, the most fun?"
"It was exciting from the early beginning!" the marquis replied. I wondered if he wasn't glossing over knots and tangles of the years-long negotiation, for diplomacy's sake – but in any case, his enthusiasm was genuine: "To imagine a real link between Moulinsart and Cheverny was exciting!"
"Why?"
"Because Tintin appears like the perfect ambassador."
"How so?"
"Because Tintin is perfect." The marquis referenced various Tintin plots: "He fights mobsters, he doesn't like Communism, he doesn't like Colonialism, he likes the Indians, he respects the nature."
I took the marquis's comments to mean that Tintin's perfection lies in his constant championing of the underdog, and his being on the "right side" of any cause. Admittedly, the point about Colonialism surprised me, since one of the earliest Tintin books has received substantial criticism for its colonial point of view: a reflection of the dominant perspective in Europe when the book was first published (1931). I prefer Hergé's later stories, in which the ideas have evolved in sync with the way the world, too, has changed.
Addressing further the exhibit's merit, the marquis added, "General de Gaulle used to say that Tintin is more well-known than he was."
"That was modest of de Gaulle."
It seemed unlikely that Tintin had more fame than the man who helped liberate France at the end of World War II, and who founded the country's Fifth Republic and was elected one of its presidents. Still, maybe Charles de Gaulle was right; the Tintin books remain extremely popular, especially in French-speaking countries.
"Tintin was modest, too," the marquis continued. "He could be a new Cincinnatus, the Roman senator [who
Cincinnatus had left his farm and plough, I discovered, to fight in the Roman army, then returned to farming when his duty to Rome was done. It was a pleasure to glean this history through the marquis.
A present-day fact, too, intrigued me: "I read that 85,000 visitors among 350,000 annually come specifically for the Tintin exhibit, and that there's talk of possibly expanding it."
"One out of three tourists comes for Tintin," the marquis enthused, underscoring the even higher ratio. "Expanding the exhibit, that depends on Nick [Rodwell, the Director of Moulinsart
"What does that partnership consist of?"
"If we were wine, we [the château
To hear the marquis wax poetic was a pleasure: "That's a great metaphor. The castle is the holder, the host."
"We won't drink Châteauneuf-du-Pape," he added, naming a quality French wine, "if it's in a bottle that's not attractive."
I was curious about when Tintin, too, became attractive to him; how old was the marquis when he first read a Tintin book?
"I was six years old."
The typical age in France, I commented, prompting the marquis to add, "Tintin is like a member of the family of the reader."
When I asked him to elaborate, he paused to rethink the analogy: "Tintin is a friend just before you go to sleep."
"So it was always bedtime reading for you."
"Yes."
"And when did you realize that the château in the books is the same one that belongs to your family?"
"I don't remember a specific moment. I was 3 years old when I was adopted and came to live in the château. I don't remember... maybe I was told." He seemed troubled by not being able to conjure that early memory.
"It's amazing," I ventured, "how everyone recognizes the château from Tintin, and compares it to Hergé's château de Moulinsart."
In fact, Tintin seemed a frequent reference among visitors, one way or another. That morning, I'd also taken a guided ride on a jeep at the château. The young driver went so fast that the jeep bounced and jerked over roots and other rises and dips in the ground. A man seated behind me joked loudly, "On va mal, Tintin!" In essence: we're in trouble, Tintin, save us!
"The resemblance to Moulinsart is very clear," I said, omitting the jeep anecdote, "but your château made me think first of a wedding cake, with its light color, and its stories layered one upon another."
I thought the marquis would comment on some other physical aspect of the château, but somehow his answer seemed more French:
"Yes, it's very appetizing!"
Before the interview concluded, and so became a thing of the past, a look forward seemed in order.
"I have to work for my children now," the marquis said. "It [the château
And that legacy, I thought, will be enjoyed by other children as well: earlier, I'd watched one family tossing breadcrumbs to the swans. When the sister, who looked about ten, asked her younger brother for more bread, he shouted, "no!" Sibling relationships are the same the world over. So are parents' wishes to ensure their children's future.
"I love forestry," the marquis continued. "It's a pleasure to see these young trees, and to project into the future."
This was another metaphor: young trees and young children growing, maturing. Meanwhile, in the less symbolic world, I could see, on the large computer screen nearby, one email after another arriving. And in a room across from the office where we sat, a telephone rang as persistently as the phone in the Tintin exhibit. The marquis was in constant demand.
"C'est pas la vie de château," he punned. "La vie de château... that will be hard to translate, no?"
Yes. At least for this American, who had never heard the phrase before. From his explanation, I understood that "the château life" implies one of luxury. Of ease. The marquis expanded a bit on the responsibility he bears in his own vie de château:
"It could be hard in the morning, easy in the afternoon. You never know. Something is likely to happen" – some urgent problem – "all day long."
I was grateful that whatever other matters awaited him, the marquis never rushed our conversation or became impatient with it. We had spent an hour and a half together. The interview over, we stood up, walked outside, exchanged the French bises on the cheeks, and Charles-Antoine, as I thought of him after our amiable conversation, gave me his card, then returned to his office.
I easily found my friend Eric, who had gone to explore the Tintin exhibit, on a nearby bench beneath the trees. He asked about the interview.
"Excellent! Et l'exposition Tintin?" I probed.
"Superbe."
So much so that it had inspired Eric to buy, at the gift shop, two books from the series – The Secret of the Unicorn and Red Rackham's Treasure – which, like the marquis, he'd first read when he was about six years old. Those two books form the storyline of the 2011 Hollywood movie The Adventures of Tintin, but Eric had chosen them because they explain how Hergé's Captain Haddock inherits his Cheverny-like château. An ancestor – Commander for the Royal Navy of a ship called Unicorn – receives the château, and the title Chevalier de Hadoque, as a regal thank-you from King Louis XIV, for outstanding service to the Crown. By way of plot twists that hinge on model ships, antique collectors, thieves and pirates, and cryptic riddles written on hidden parchments, the castle is lost, then restored generations later to Captain Haddock, as a hard-won legacy. It is a marvelous and well-wrought tale. And the deep entwining today of the marquis's château and Hergé's serves as the perfect epilogue.
Jennifer Arin is a poet and essayist, and an academic advisor and lecturer at San Francisco State University. More information about her can be found at https://faculty.sfsu.edu/~jarin.