Which boxes do you prefer in Tintin's albums?
160 reviews
Log in
or
create a Tintin.com account
to write a review.

echirose
24/03/2023 07:06 AM
J'adore quand le capitaine médite 😅. Avec mon amie, en primaire, on s'amusait à mimer cette scène

tintinachere
20/03/2023 18:01 PM
Dans l'Étoile mystérieuse, quand Philippulus le prophète, reçoit le vase d'eau que Tintin a dans sa main : cette case me fait aussi très rire. Mais j'en ai plein d'autres…

+1

barbu23
17/03/2023 20:14 PM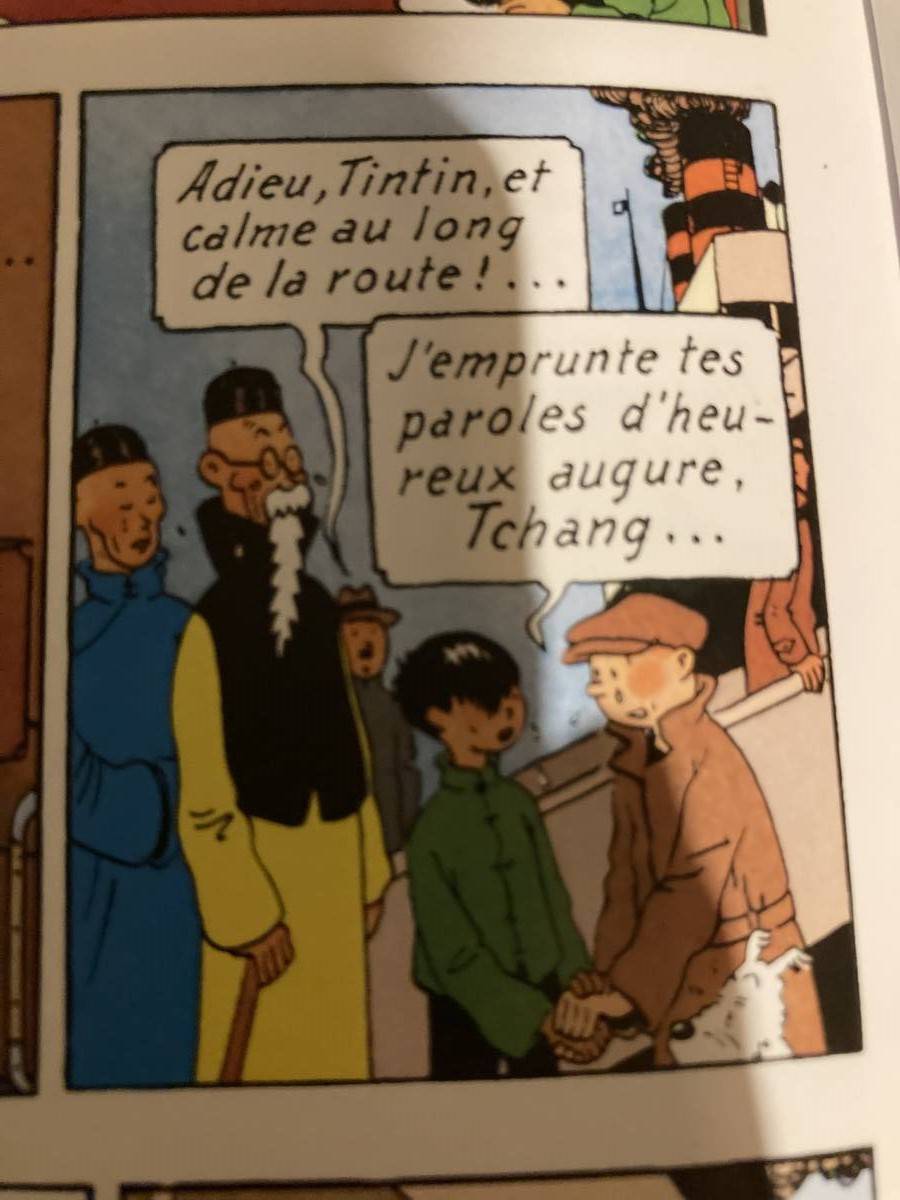 Elle est mieux comme ça et encore plus émouvante. Bonne soirée.

+1

tintinachere
17/03/2023 19:51 PM
La case où Tintin quitte son ami Tchang, dans le lotus bleu: cette case m'a ému.

+2

amir12
11/12/2022 17:43 PM
صفحه‌۶۳‌تن‌تن‌وجزیره‌سیاکه همه ازرانکوترسیدند


amir12
11/12/2022 17:30 PM
صفحه 63، آخرين جعبه‌تن‌‌تن‌جزيره سياه.
اونجایی‌که‌خبرنگارها از گوریل‌ترسیدند و فرارکردند.


craigdhui
29/09/2022 01:47 AM
He just looks so happy and I love it

+3

liselle
18/09/2022 09:18 AM
Tournesol ne va quand mème rien comprendre !!!!!!!!!!!!!!!!!!!!!!!!!!!!!!!!!!!!!!!!!!
Le chapeau des Dupond que Tintin n'arrivais pas à enlever, vole à cause du cris du capitaine !!!!!!!!!!!!!!!!!!!!!!!!!!!!!!!!!!!!!!!!!!!!

+5

echirose
19/06/2022 18:08 PM
Et le sauvetage du capitaine par Tintin après l'enlèvement du capitaine par la bande du karaboudjan

+1

echirose
19/06/2022 18:06 PM
La rencontre de Tintin et du capitaine Haddock qui va se transformer en une belle amitié

+3

thelo
19/06/2022 17:54 PM
La posture, le visage... qu'est-ce qu'il rumine le capitaine ! que ça a l'air simple ! quel génie Hergé !!

+3

tintinology
18/05/2022 09:06 AM
the boxes which i like the most are the ones in the book "Tintin in Tibet" page 14 ( last two rows ), especially the one where Captain (having refused to follow Tintin any further in his journey to find Chang) changes his decision & asks Tintin if he thinks that Captain Haddock has got "tomato juice" in his veins ! and also invites Tintin's praise where he says that- Captain what can i say? you're a marvel ! truly, this book shows the immense friendship between Captain… voir la suite

+3

lilythedeer
21/01/2022 17:56 PM
het is zeker De Blauwe Lotus. Het verhaal samen met de prachtige graphics maken dit een echt onderscheidend album van de rest.
Dit hele album is zo geweldig, ik vind het onmogelijk om slechts een klein deel te kiezen.

+3

echirose
02/09/2021 08:52 AM
J'adore cette scène où le capitaine, en voulant se coucher par terre, tombe dans la mare

+5

daumesnil90
01/09/2021 23:30 PM
Haddock mimant son ancêtre le chevalier de Hadoque dans son combat contre Rackam le Rouge

+4

haddock58
12/08/2021 11:48 AM
Elle sont merveilleuse

+5

sapamoon
28/05/2021 12:14 PM
La plupart des vignettes du « Lotus Bleu », mais particulièrement celle-ci (Lotus pl.24 C1, muette).

+9

lambion
25/05/2021 17:24 PM
je ne sais pas comment coller des photos au commentaire ... ( en plus c'est seulement mon 2 commentaire 😅)

GENERALEMENT j'aime les cases connue mais j'aime bien 2 case pas très spéciale et peu connu :
1) tintin au tibet /page 13 et 14 /case D3
lorque tintin est chez tarkey ou tintin et le capitaine hadock parle . j'aime surtout la position de tintin ,
2) objectif lune ! ( l'un de mes albums favoiris ) page 6 case C2 . lorsque le capitaine dit :
- tonnerre de brest ! qu ese passe t'il dans… voir la suite

+4

jirluin
18/04/2021 23:12 PM
Le trait d'Hergé habituellement si précis, si net, cette fameuse ligne claire qui devient ligne brisée pour notre plus grand plaisir...
Les bijoux de la Castafiore (50-III-1)

+10

alfred012345
07/04/2021 16:01 PM
I like this part of prisoners of the sun:

Thompson it says just a minute what if it's a trick supposing they went in the opposite direction and then the Thompson says quite right I submit the toll of us should go one way and half the other then the captain haddock says what a brilliant idea and there are three of us half of three is 1 1/2 and then Thompson says great Scotland you're doing all right what can we do and then Captain haddock says you to go your way and I'll go mine now and will… voir la suite

+5