Tom Frantzen, the king of zwanze
After Breughel, Brel, here is Hergé!
The Hergé Museum is hosting his work until 19 August 2019
Hergé's wax
After studying scientific humanities, Tom Frantzen hesitated between studying architecture or sculpture. Finally, he opted for the "Monumental Sculpture" university course at the École nationale d'Architecture et des Arts visuels de La Cambre in Brussels. His tutor was Rik Poot, who taught him the lost wax technique in particular. He did an internship with an Italian foundryman, then built his own foundry. It remained in operation until 1990. However, castings, chiselling and finishing are always done in his own workshop.
His style is characterised by fantasy and humour. He describes himself as a "contemporary Flemish fantasy artist". In his works, surrealism and satire form a whole. He frequently includes in his compositions mechanical elements "grafted" to the living elements, while remaining visually plausible. Past, present and future combined. Humans become animals and vice versa. He combines minimalist shapes in Corten steel, concrete or wood, with organic shapes in bronze.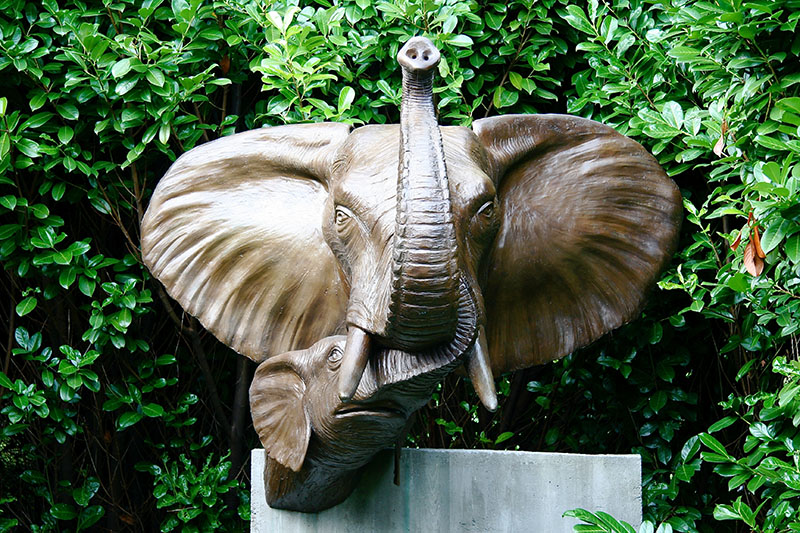 Tom Frantzen regularly participates in competitions and his public achievements are like "accents" that integrate and animate the existing environment. Interactivity with passers-by is an essential step for him.
Questions / Answers:
Tom Frantzen, after the creation of a sculpture of Jacques Brel, you have just been asked to create a statue of Hergé, another famous Brussels artist.
Brel and Hergé are associated with the city of Brussels like no other. They have helped to enrich its identity and give it a positive international image. These are artists for whom I have great admiration and respect and it is an honour for me to have been able to depict them.
Hergé is from Etterbeek, was he a true Brussels man?
His mother was an authentic Brussels woman and Brussels has always been a great source of inspiration for Hergé. He represented the Flea Market, the streets, squares and their inhabitants, but also the Royal Museums of Art and History of the Cinquantenaire Park or the Africa Museum in Tervueren, which he included in some of his books. In Tintin in the Land of the Soviets, the station where Tintin is acclaimed by an enthusiastic crowd is none other than the former North Station of Rogier Square, demolished in 1952. As for the Quick and Flupke series, he places those mischievous kids in the Marolles district. He couldn't be more Brussels than that!
Entering the Zwanse through Tom
We find the "zwanze", the typical humour of Brussels, prominently in Hergé's books, but also in your sculptures. Can you tell us what "zwanze" is?
Zwanze is a Flemish dialect, interspersed with French words. The absurd, derision and surrealism are never far away, but this dialect is unfortunately disappearing. This is one of the reasons I fought for years to perpetuate this form of humour through street sculptures. I create a kind of "visual zwanze" so that people who don't understand this language can enjoy this particular humour.
Since I made Madame Chapeau's sculpture at the corner of rue du Midi and rue des Moineaux in Brussels, I am definitely associated with this Brussels "zwanze". It must be said that Amelie Vanbeneden, aka Madame Chapeau, is the most popular character of the play Bossemans & Coppenolle, created in 1938 by Joris Hanswijck and Paul van Stalle.
The same goes for my sculpture Zinneke, located at 35 rue des Chartreux in Brussels. It could also be in the category "Brussels Bronze zwanze".
Don't miss the temporary exhibition at the Hergé Museum
Free access
More information on the website: museeherge.com
Catalogue : Hergé & Tom Frantzen : An imaginary encounter.
All photos illustrating this article are © Philippe Fontaine