The Adventures of Tintin in the Air
From the Polikarpov (1929), a Soviet fighter aircraft, to the American jumbo jet Boeing 747 (1976), The Adventures of Tintin retraces the fascinating history of aviation. At a time when the race to create the first "future aircraft" is tightening, Tintin was already at the cutting edge of technology.
Passionate about planes and their pilots, Hergé created the character of Tintin at the height of the golden age of aviation and gave planes a central place in his stories. Under his pen, the plane is more than a means of fast transport. It becomes a real protagonist of the action. Thus Hergé stages incredible aerial exploits and accelerates the rhythm of his stories.
Simple and discreet in the first adventures, the planes become more complex and multiply in the following albums. Hergé pays them more and more attention and gives them a central place in his stories. Serving as well the adventure scenes in The Shooting Star, as the chases in Cigars of the Pharaoh. The plane even becomes the reader's main focus in Flight 714 to Sydney with the appearance of Laszlo Carreidas' mythical private jet.
The Shooting Star
Cigars of the Pharaoh
© Hergé - Moulinsart 2021
Throughout the adventures of his hero, he always took care to represent the aircraft with a great concern for precision and realism. From the land of the Soviets to the land of the Picaros, Tintin travelled all over the world as a passenger and even as a pilot, witnessing this evolution which has changed our society.
Whether Hergé faithfully reproduces authentic models, such as the Soviet Polikarpov or the American Boeing 747, or draws aircraft from his imagination, such as the Stratonef H-22 from the adventures of Jo and Zette, the supersonic plane of the billionaire Carreidas in Flight 714 to Sydney, the basic concern is always the same: to take into account the most sophisticated technical discoveries at the time he draws.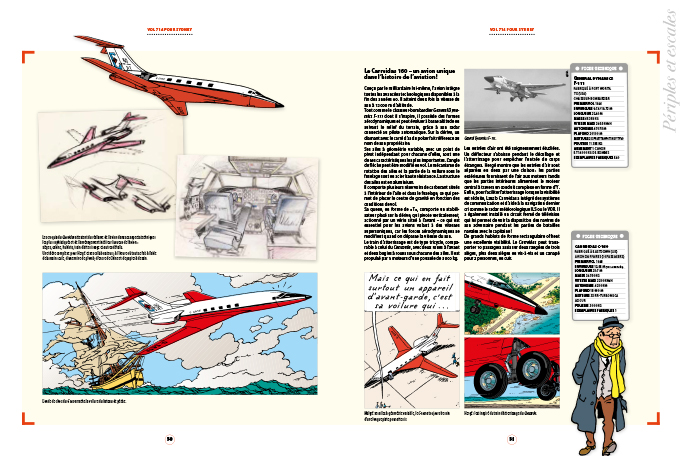 HERGÉ, TINTIN ET LES AVIONS, José Miguel de la Viuda Sainz (2018). © Hergé - Moulinsart 2021
Qantas Airlines Boeing 707 in Flight 714 to Sydney
Reconnaissance plane in The Red Sea Sharks
Syldair aeroplane in Destination Moon
Sabena Airlines plane in The Calculus Affair
Red counterfeiters' plane in The Black Island
Basil Bazarov's plane inThe Broken Ear
© Hergé - Moulinsart 2021