Hergé and Folon: two universes
A line of black ink of constant thickness separating each colour; the whole shaping realistic characters and settings, on the one hand. Wide watercolour shading and schematically outlined silhouettes, on the other hand. Hergé and Folon have two distinct worlds. But what could possibly unite these artists?
Folon, a multidisciplinary artist, has exhibited his creations all over the world. He is a draughtsman, painter, poster artist, sculptor, scenographer, stained glass designer and film director. Like the famous Adventures of Tintin by Hergé, his work has crossed the borders of Belgium.
Folon was born 27 years after Hergé, in the same city: Brussels, the cradle of Belgian art. In 1934 to be exact. At that time, Hergé had been working as a cartoonist for 10 years. A timid start, since The Adventures of Tintin was only a few years old...
A medium: posters
At the beginning of his career, in addition to comics, Hergé also devoted himself to the creation of posters and advertising campaigns. In fact, the same year that Folon was born, the cartoonist created the Atelier Hergé for this purpose.
In the 1950s and 1960s, Hergé imposed his own style: the "Ligne Claire". A perfectionist and visionary, he developed this graphic technique in the journal Tintin or with Jo, Zette and Jocko and Quick and Flupke. During these decades, Folon produced his first drawings which propelled him to the forefront of the world artistic scene. A quick start and a dazzling career.
At first sight, nothing more than their origin brings the two men together. Except that Folon also produced more than 600 posters in the course of his life. The reasons are diverse: commercial, event-related, cinematographic or ideological. For Folon, a good poster must above all attract the eye in order to be seen by passers-by, even the most hurried. He therefore creates posters that are strong and simple at the same time. His illustrations are eye-catching and yet easy to understand.
Hergé's advertising sometimes took the form of short stories in pictures, close to comic strips, such as Les mésaventures de Jef Debakker for Union fuel briquettes. But he also produced posters and brochure covers in a very simple style, built around a few essential elements, in which his sense of image and composition shines through. La Tente pour le camping club de Belgique is a good example.
One theme: travel
If there is one character who makes you travel, it is Tintin. The young reporter takes young and old, from 7 to 77 years old, around the world. Hergé's work is all about travel, discoveries, epics... Adventures with a capital A.
In all, 22 countries in 23 adventures! Hergé's drawings certainly inspired many a traveller at a time when the internet did not exist. To dive into an adventure, to sneak into Tintin's suitcase and discover distant countries was then possible.
Travel is also one of the great themes of Folon's work. And to illustrate this, a series of recurring signs, such as the suitcase, the boat and the sea. What Folon proposes to the viewer in front of each of his works is to make an inner journey full of poetry, a spiritual journey towards his own memories and dreams. If some of his images refer to the journey literally, most of his works are a metaphor of departure, of escape in general, like his birds that always fly away.
A tribute: two museums
The highly inspired concept of an architect, integrated into a modern city, on the one hand. The bucolic setting of a large and beautiful Walloon farmhouse at the foot of a castle. Two museums, one dedicated to Hergé, the other to Folon, superbly retrace the career of these two great Belgian artists.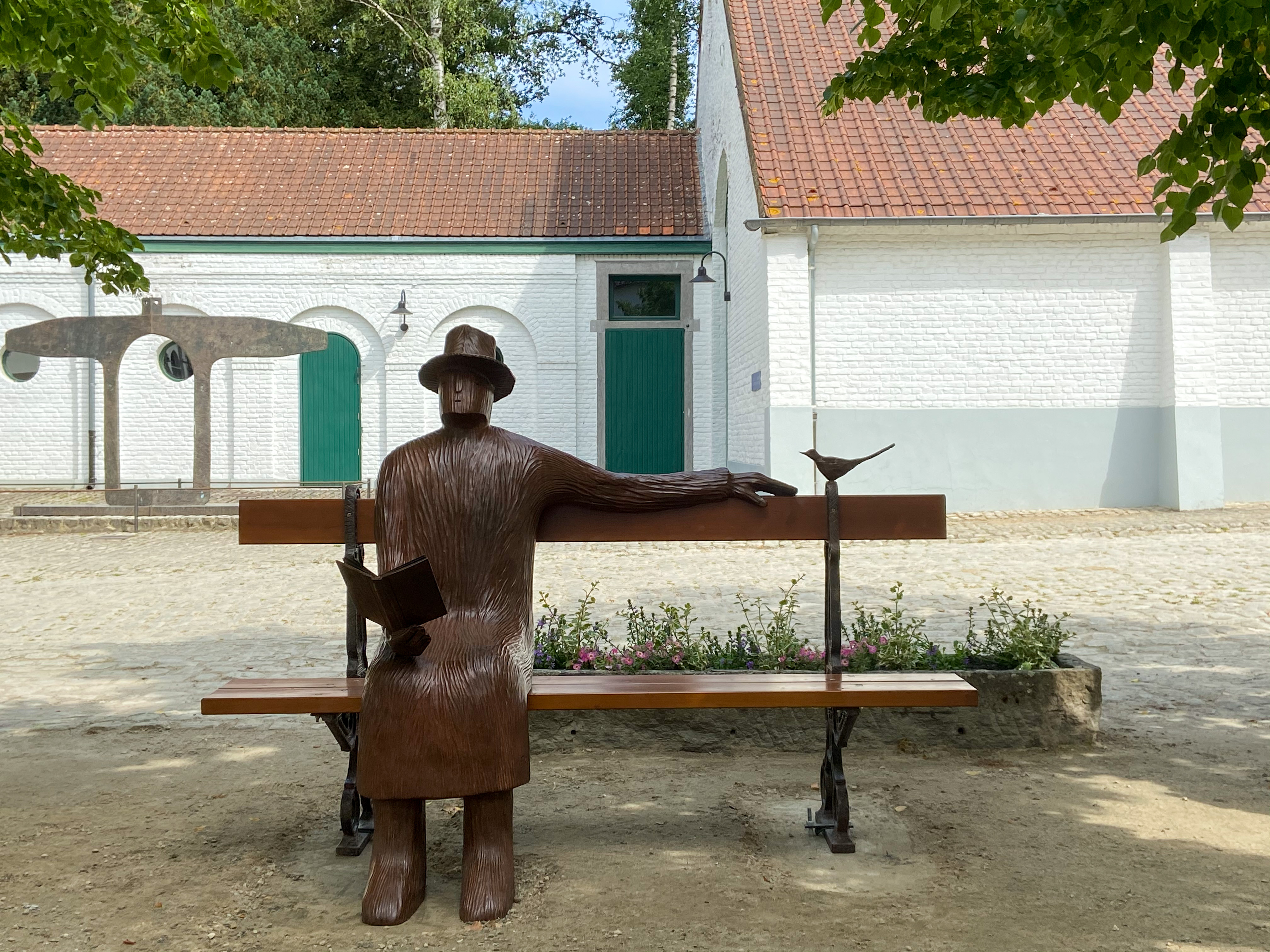 The
Hergé Museum
and the
Folon Foundation
offer a discovery day for groups. In one day, discover the respective museums of Hergé and Jean-Michel Folon.
Combined ticket: 14€/person
Possibility to have a guide: 125€ per museum
Temporary exhibition
A homage to Jean-Michel Folon (1934/2005), a Belgian artist whose hybrid and poetic creations represent the great ills of contemporary society. The exhibition at the Saline Royale will present more than 200 works from the Folon Foundation (posters, drawings, sculptures...).
5 May - 5 November
La Saline royale d'Arc-et-Senans