Tintin in Cairo
On the occasion of the centenary of the discovery of Tutankhamun's tomb and the bicentenary of the deciphering of the hieroglyphs by François Champollion, an exhibition featuring Tintin's adventures in Egypt will be presented at the
National Museum of Egyptian Civilization in Cairo
from November 22
nd
, 2022 to 22
nd
December 2022.
To create the Egyptian sequences of Cigars of the Pharaoh, Hergé, the Belgian comic strip author, was freely inspired by the discovery of the tomb of Tutankhamen by Howard Carter in 1922. This adventures in Egyptian lands are now the subject of a new colorization. Thanks to this approach, Hergé's original story - first published in serial form, from 1932 to 1934, then published as a book, in 1934 - is reissued this year to celebrate, in its own way, the anniversaries of these two major Egyptological discoveries.
The starting point of this colourful graphic story opens with the cult sequence of the tomb of Kih-Oskh. Then, guided by the successive and regular appearance of the symbol of this mysterious pharaoh, visitors are invited to participate in the "Tintin Adventure Trail", a fun and interactive quest (via QR codes) to (re)discover ten objects presented in the permanent collection that the hero with the quiff has himself encountered during his investigations.
Visitors will also be able to browse the black and white edition compared to the one recently colourized by Tintinimaginatio. Finally, as a souvenir of their experience, visitors will be able to immortalise themselves in front of a vignette reproduced on a scale of 1 and take a photograph of the famous Belgian reporter.
As a tribute to this major archaeological episode in the history of humanity, photos taken by Harry Burton will also be projected as part of the event. Coincidentally, they have also been colourized!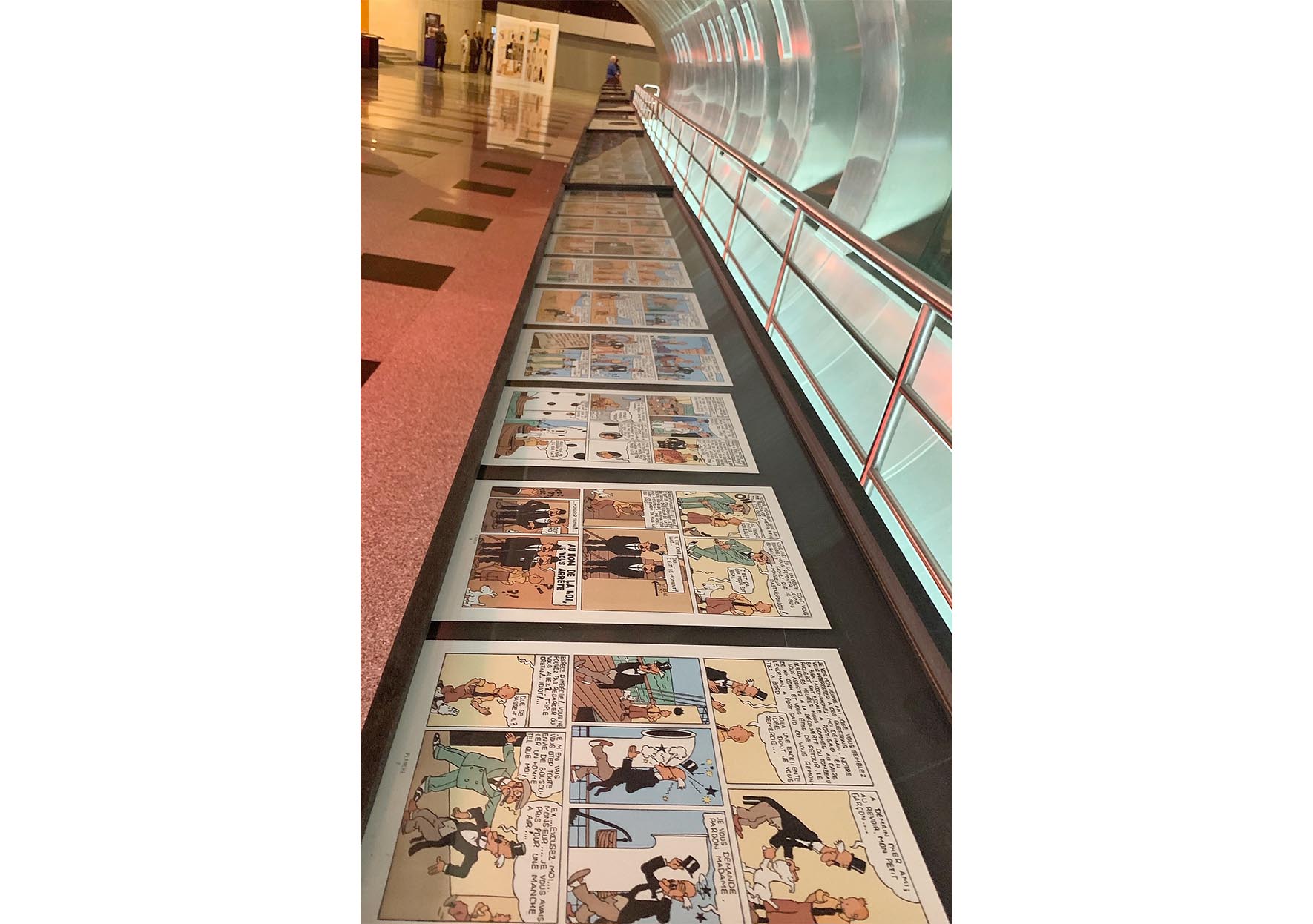 © Hergé / Tintinimaginatio - 2023
Inauguration
Cornet of Elzius François, Belgian Ambassador to Cairo, accompanied by Ahmed Ghoneim, Executive Director of the NMEC Museum.
Dalia Farouk, Lyric artist
Teit Ritzau, CEO IFFDA
Ahmed Ghoneim, Executive Director of the NMEC Museum
Yves Février, Tintinimaginatio
© Hergé / Tintinimaginatio - 2023