Tintin Zero Gravity : making of
On March 31st, Tintin and Snowy embarked from Bordeaux, alongside the ESA (European Space Agency) team, for an unusual first flight. Interview with Nicolas PREUMONT, designer for Moulinsart.
Different in many respects, a parabolic flight has nothing to do with a traditional flight because its aim is not to take passengers from point A to point B, but to let them experience the effects of weightlessness several times.
To meet the challenge of this high-flying mission, the statuettes of the two heroes were given special attention: postural work, composition and control of the body, capability to resist acceleration as well as rapid changes in position in space, stress tests, and so forth. A physical preparation worthy of the greatest astronauts!
This was carried out under the expert eye and hands of Nicolas PREUMONT, designer for Moulinsart. By answering 5 questions, he reveals the secrets of this meticulous preparatory work.
What is special about these statuettes?
They are prototypes, unique pieces that were made using stereolithography (MSLA), a 3D printing technique.
Their designs are inspired by the vignettes in Explorers on the Moon, published in 1954.
For Tintin, the reference is a mix between two vignettes: Haddock's attitude and that of Tintin himself, when they are represented in weightlessness (or zero gravity) on page 6.
A small smile has been added for the occasion.
What about the technical aspects?
The sculptures were designed using 3D modelling tools and were printed in liquid photopolymer resins, which solidify when exposed to ultraviolet light.
The advantage of this type of material is that it allows for a great deal of finesse of detail (precision of 25 microns). On the other hand, they are naturally very brittle, like plaster.
But for some months now, several laboratories have been developing technical resins that absorb shocks better. So, after a few tests, I opted for a 50/50 mix of two of these.
© Hergé / Tintinimaginatio - - 2022
How did you go about making them?
The statuettes were literally born in the resin of the 3D printer, after an average of 15 to 17 hours of printing.
© Hergé / Tintinimaginatio - - 2022
When they came out of the printer, they were sticky and covered in liquid resin. They therefore had to be cleaned by immersing them in a bath of Isopropyl alcohol, then in an ultrasonic tank to dissolve, in depth, all the remains of non-solidified resin.
All the construction supports were then removed (unfortunately weightlessness is not possible in the resin vat and the statuette must be held in place by a sort of scaffolding that is built at the same time).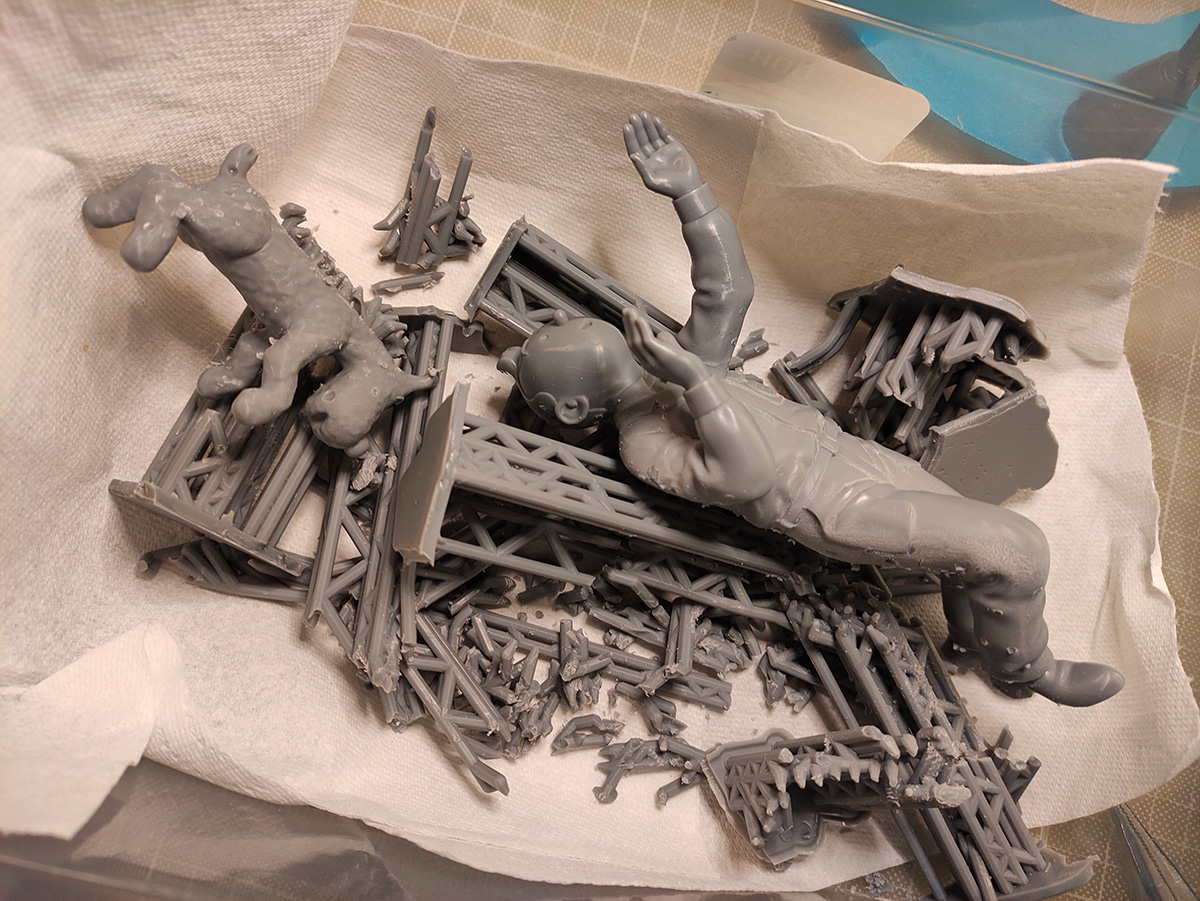 © Hergé / Tintinimaginatio - - 2022
After that, they were dried with compressed air before being placed on the turntable of the ultraviolet cabin. They were then bathed in UV light for a few minutes to allow the resin mixture to solidify permanently.
© Hergé / Tintinimaginatio - - 2022
In short, all sorts of operations worthy of Professor Calculusl!
And at this stage, were the statuettes able to fly?
No, not quite, because we still had to carry out a 'drop test' to ensure that they would not explode in mid-air
The instructions were that they should be able to fall from a height of 2m onto a carpet-like surface.
I wanted to make things a little more challenging by raising the height to 2.60m and removing the carpet from the floor. My 11 year old son did the experiment, not without some anxiety... but the test was successful.
All that remained was to paint and varnish them (acrylic paint and varnish).
© Hergé / Tintinimaginatio - - 2022
The photographs taken by the ESA team are immersive, almost realistic, so that one has the impression that the statuettes are human-sized. Is this the case?
Well, no, because a medium format was chosen: neither too large, to avoid breakage in the plane, nor too small, because it is almost impossible to take close-ups in mid-flight.
Here are the real dimensions of the two characters:
Tintin :
Dimensions : 155,2 x 94,62 x 58,77 mm
Poids : 88 g
Milou :
Dimensions : 74 x 62,4 x 34,1 mm
Poids : 28 g
© Hergé / Tintinimaginatio - - 2022