Tintin in the Congo
His popularity well established, this is to Africa that Tintin now sets off. The Adventures of Tintin, reporter at Le Petit Vingtième, in the Congo(1931) is a naïve depiction of the colonial times and paternalistic views as they existed in Belgium in the early 1930's. For this new story, Hergé will improvise. Tintin becomes a sorcerer in the Babaoru'm Kingdom. He will outsmart the traps of the gangsters who want to take control of the diamond production of Congo.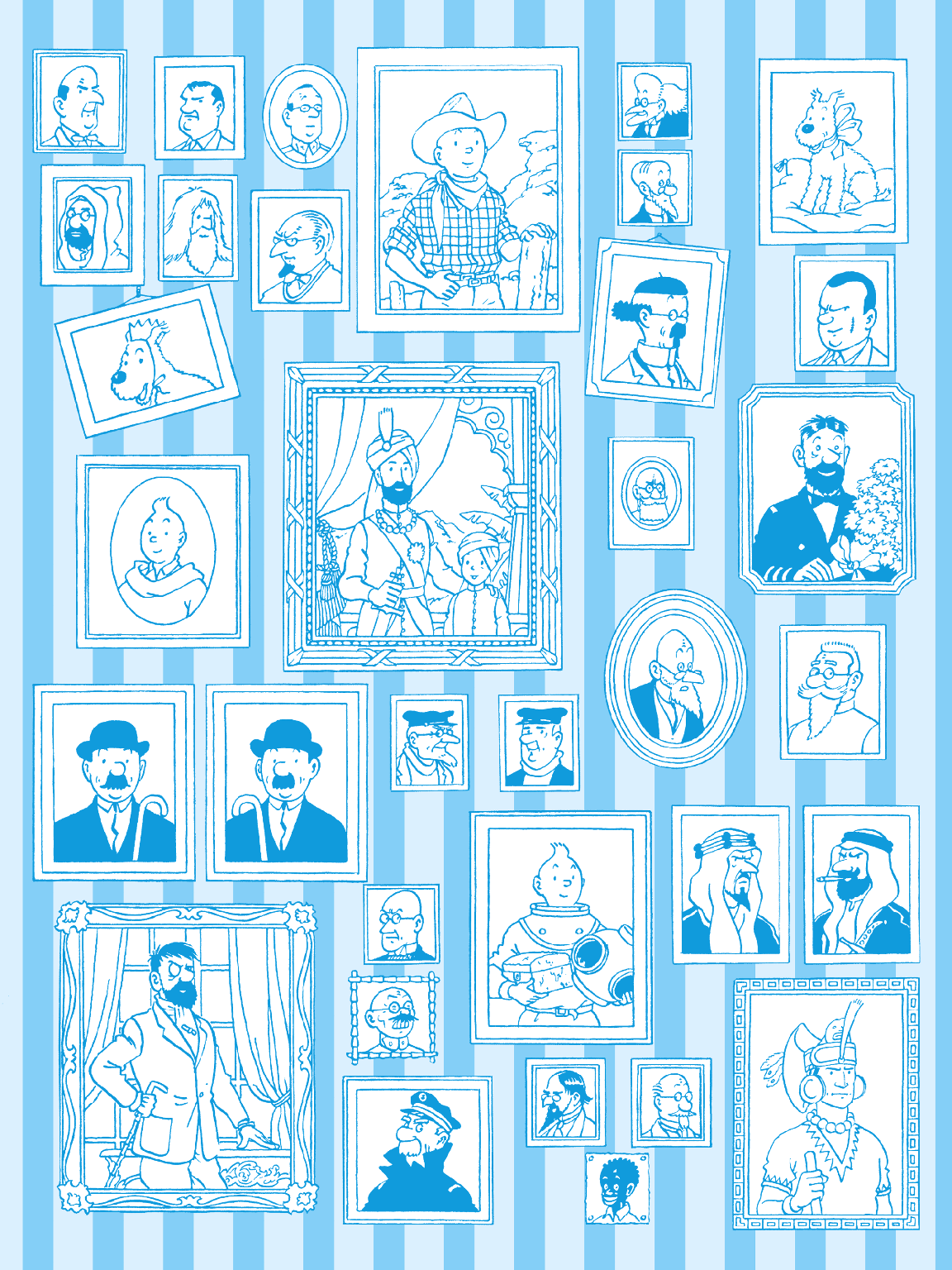 Tintin in the Congo covers in French
An unexpected detour
On 5 June 1930 readers of Le Petit Vingtième were told that Tintin and Snowy, barely returned from the Soviet Union, were about to travel to the Belgian Congo. The announcement had been made in the magazine and pictures even showed Tintin choosing what he would take with him from the "Congo" section of the Bon Marché department store. All the same, Hergé's intention had been to send the little reporter to the United States. Following his critical "report" on communist Russia, he wanted to lift the lid on the failings of American capitalism and pay a visit to the Native American Indians.
Cover artwork for Le Petit Vingtième 1930 - Advertisement for Au Bon Marché department stores
Why the Congo and not America ?
Why is it that Hergé sent Tintin to the Congo before America ? At the outset of the 1930s the world was going through a major economic crisis. Millions were unemployed and businesses were failing at an alarming rate. Caught between two opposed world powers run by two contrary political systems - the Soviet Union and the United States - European countries tried to find a third way to exist. Many Europeans were as distrustful of American materialism and productivity as they were of Soviet Communism. Hergé's agenda can be understood in this context.
Yet there was a typically Belgian predicament at the time that was deemed worthy of urgent attention by Father Norbert Wallez, director of Le Vingtième Siècle: the lack of enthusiasm among young Belgians for the colonial life. He counted on Hergé and Tintin to drum up some interest in overseas vocations!
Setting the scene for readers
After the reception organised to celebrate Tintin's return from the Soviet Union (8 May 1930), Le Vingtième Siècle promised readers of Le Petit Vingtième that: "Tintin will rest for a few days after which he will leave for a far-off country with his faithful friend Snowy."
Cover artwork for Petit Vingtième (1930)
On Thursday 22 May, Tintin was pictured on the front cover of Le Petit Vingtième, considering his next move while scrutinising a map of the world: "Where to next ?" The answer came in the issue published on 29 May: Tintin was off to the Congo ! On 5 June, following a train journey from Brussels to Antwerp, Tintin and Snowy embarked on board the Thysville, a ship that sailed from Antwerp to Matadi, the main port and entrance point to the Belgian Congo.
How did Belgium acquire the Congo ?
Father Wallez pushed Tintin towards the Congo. The Belgian minister for colonies got in contact with the priest, proposing a series of positive articles and reports about the presence of Belgium in the Congo.
© Hergé - Moulinsart 2021
King Leopold II of Belgium took control of the Congo at the end of the nineteenth century, turning it into his own personal fiefdom. Under international pressure the Belgian parliament forced the King to cede the Congo to the Belgian government in 1908. The Belgian people were not particularly enthusiastic about their new gift.
Tintin, promoter of the Congo
The colony was in dire need of administration but the only people who were really making an effort in the country were Catholic and Protestant missionaries. Not many Belgians were interested in taking up administrative roles in the Congo. There was also a lack of people willing to do certain jobs that are crucial in a tropical country: road and bridge engineers, civil engineers, geologists, miners, doctors, teachers, architects, drivers, etc.
© Hergé - Moulinsart 2021
There was an influx of traders into the country but most of these were Portuguese, Chinese and Greek. Adventurers from all over the world paid visits to the Congo. The Belgian government was looking for ways to interest its people in colonial careers. When Father Wallez proposed Tintin as a promoter, the idea seemed very attractive.
Hergé does his research
Taken a little by surprise, Hergé found himself wondering how he could learn more about the Congo. In the end it was Father Wallez who would provide much of Hergé's schooling in the matter! Yet he also received assistance from his old friend René Weverbergh, director of the monthly Le Boy Scout magazine, who furnished him with a copy of Notre Colonieby A. Michiels et N. Laude, the first edition of which appeared in 1922. It just so happened that René Weverbergh had published the book himself.
© Hergé - Moulinsart 2021
Monseigneur Schyrgens, literary columnist for Le Vingtième Siècle, provided two books: Le Congo belge and Miroir du Congo belge. Hergé also made enquiries via the Compagnie Maritime Belge, which had a monopoly over sea travel between Belgium and the Congo. He found out about the route between ports, which he reproduced in Tintin in the Congo, and learned about life on board an ocean liner.
The leopard-men
Hergé took time to visit the Museum of Central Africa in Tervueren, in the Brussels suburbs. He came across stuffed lions and crocodiles permanently set in menacing poses. But the most inspiring exhibit he came across was a mannequin of a leopard-man from a terrifying African cult. The history of this group has never been firmly established. Were they African highwaymen, nationalist Africans opposed to colonial rule or a secret society, the aims of which remain a mystery to this day ?
Off-text illustration made during the reissue of the album in 1937.
Aniota leopard-man at Tervueren Museum.
In the end the leopard-men were probably a bit of all of the above. They struck fear into the hearts of anyone unfortunate enough to cross their paths. Covered in leopard skins the mysterious tribesmen used claw-like clubs or gloves with claws to attack their victims.
It is possible that the young Georges Remi had already seen these leopard-men at the cinema or read about them in popular books. Edgar Rice Burroughs, author of Tarzan, depicted the leopard-men as the archenemies of Lord Greystoke. In 1957 one of Hergé's assistants, Jacques Martin, referred to the leopard-men in his hero Alix's adventure La Griffe noire.
Impatient readers
As soon as Tintin in the Congo began serialisation in Le Petit Vingtième on 5 June 1930, Congolese readers became impatient. When would Tintin be arriving in their country ? His boat trip seemed never to end although copies of Le Vingtième Siècle, and therefore Le Petit Vingtième, were arriving in missions in the Congo. From 6 July 1930, letters began arriving at the editorial office. One of the missionary fathers had written: "My little natives are extremely excited about Tintin (...). They have invited him to come and stay in the village for a few days.
© Hergé - Moulinsart 2021
A young Congolese called Kyola Kongo went even further. A rough translation of his message reads: "Little black boy him big happy to read little friend Tintin good health. Me happy read Tintin coming here. We no eat read. It read have lots to eat here. Me finish. Kyola" (quoted by Philippe Goddin in Hergé, Lignes de Vie, Editions Moulinsart). You can see that Hergé didn't invent the pidgin French (here translated into pidgin English) that he would later be reproached for
A controversial image
So many things have been said about this particular frame. Tintin teaches his Congolese pupils the quintessence of their homeland : Belgium !
© Hergé - Moulinsart 2021
Hergé quickly became aware of this prejudice and in as early as 1946 he revised the book, deleting everything that he considered offensive to Africans. He undertook this editing process despite the fact that Belgian schoolbooks were still referring to "Negroes" and depicting them as backward and inferior as late as 1960.
Al Capone in the Congo ?
Even though Hergé was relatively undisciplined in his research at the time, he still had a keen nose for current affairs. Tom and Gibbons are unveiled to be right-hand men to none other than Al Capone, "Scarface, King of the Chicago gangsters." Hergé hadn't lost sight of Tintin in America, which he was itching to tell to readers of Le Petit Vingtième.
The presence of American bandits in Tintin in the Congo was based on reality. The rich Congolese subsoil, especially that in the region of Katanga, was highly coveted. Copper, gold and diamonds are in plentiful supply: "All you need to do is help yourself", enthused one colonial governor.
The Congo soils are also rich in Uranium which Belgium sold to the United States during the Second World War, facilitating the construction of the two first atomic bombs which were dropped on Hiroshima and Nagasaki in August 1945. Traffickers of all kinds and unscrupulous explorers were also part of the colonial adventure, and in this regard Hergé again proved to be an astute observer.